I am James de la Cloche from DLC Photo. My photography company is located in Chiang Mai, Thailand. Thank you for taking the time to meet me here.
I am an artist. I see amazing moments occurring in front of me. I use my camera to capture true emotion, and love, and to interpret my vision into an image that I hope will exceed the expectations of my clients, guests and friends.
I am best known for my portraiture, weddings and, more unusually, for my photos of people with elephants. I am very much a people person. My photos come from the heart and the connection with my subjects is what makes my photos special. No matter who it is I'm photographing, I am able to bring out their best, even if they have no experience of being photographed before. I guess that is my gift!
My journey started with architectural, or property, photography over 30 years ago and is something that remains close to my heart. These days however I describe myself as multi-disciplined, since I also offer services to the commercial sector. Product photography and business portraits have become particularly relevant to Chiang Mai with its buzzing community of digital nomads.
I love video stories and work with a really great video team. I love the content that we are able to produce, be it for a wedding, product or company, and I am proud of our creative and high quality results.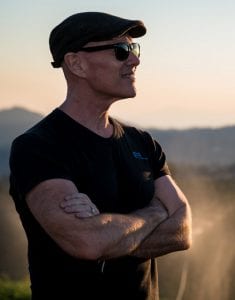 My Personal Story
While technically I am a photographer and videographer, at heart I am an artist. The camera is my way of capturing how I see things.
I was born with the inability to paint or to sculpt which resulted in being unceremoniously kicked out of art class at college!  I did however go on to have a successful 15-year career as an interior decorator. That is when I first knew I was artistic.
I clearly remember my first ever shoot. I had just completed the refurbishment of a beautiful country drawing room in a charming granite farmhouse.  I remember setting up the tripod and fixing the camera at the height and position that I wanted it, checking all the settings. The exposure was long as I wanted to use natural light, and after taking more shots, I popped the roll of film out and hurried to take it to the shop to be developed.
I wasn't sure that I had done everything right! Had the results been bad I would probably have put the camera away and continued to pay the pro-photographer who I had been using. But wow! I was super surprised and happy when I saw those first shots. So, that was the very beginning of my journey with the camera.
After a few years, I went in to the real estate industry and again my photography skills came to the fore. I always regarded it as a useful skill that helped me with my job but I didn't see myself as a photographer. That came later.
My real transition to artist started in 2003 and was very much linked to Thailand.
I Woke Up
I first came to Chiang Mai in January 2001. I'd never been to the Far East before and I was reeling from how different my culture and Eastern culture were. I was taken to Wat Umong, the first Buddhist temple that I ever visited.  As I was leaving, I picked up the only book in English, titled A Handbook For Mankind by Buddhadasa Bhikku. That little book set off a chain reaction that led to an event a few years later that changed who I am forever…
I was visiting Chiang Mai to see my girlfriend. It was early evening and we were just setting out to meet friends for a night of music and beer. As I stood up from sitting on the bed, I can only describe what happened next as if an express train of understanding whizzed through the station of my mind. I sat down heavily on the bed. I was in shock.
I don't remember if we went out or not that evening but what I do remember was how, in the following days and weeks, I struggled to come to terms with the completely different way I was viewing the world. Suffice to say, I felt very different. My life and values changed very much after that event.
A New Perspective
After a few years I realised that I didn't want to spend the rest of my life in real estate and that what I really wanted was to dedicate myself to my photography. It brought me a lot of pleasure and I had started to see that it could bring pleasure to other people as well.
I started to plan. My goal was to move to Chiang Mai by the age of 50 and to make professional photography my sole source of income. My Dad passed at the age of 54 and I regarded my life journey after 50 as 'Book 2'. I didn't know how many pages that book would have but I did know that it could only be written when I made the leap.
I announced to my business partners that I was leaving. They thought I was crazy. Perhaps I am, but as I like to tell my life partner, it's the right sort of crazy.
Book 2 has been anything but boring. Certainly not a straight path and with some major challenges along the way. But I have never been happier! Even with the challenges and some hard times, I feel that I am doing exactly what I am supposed to be doing.
The Year Of The Elephant
A real turning point came in 2016 when I met the wonderful people at Chai Lai Orchid. I love them and the great work they do as a socially conscious, not for profit business. I had no idea Book 2 would resemble The Jungle Book but I am so happy that it does! Elephants were the biggest surprise – literally!
Elephants are such wonderful creatures. It feels they are an anomaly, stranded in the modern age from a time long, long ago. They deserve to be treated with kindness, dignity and respect and all of those things are in abundance at Chai Lai Orchid as you will see if you visit.
Old Dog, New Tricks
More recently, I have taught myself new skills using my drone and enjoy videography, which is another great creative challenge.
My work covers many different aspects of photography: property; commercial products; corporate events and productions; weddings and pre-weddings; as well as boudoir. Every project is an opportunity that deserves the same professionalism and attention to detail.My work brings me into contact with so many amazing people, in such an amazing and beautiful country.I feel truly blessed. Each day I am doing what I love and loving what I do. It is amazing how life unfolds.
I hope to meet you soon.
Love and light!
James